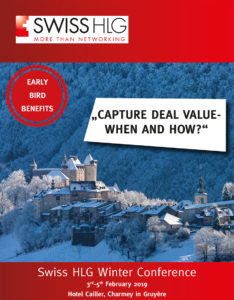 We are all interested in making deals and see more of these in the media; this is at least the "bread and butter" for BD&L professionals and what they are measured against.
Main questions in this context are not only to explore creative deal structures on how to maximise the value of any asset. We are all focusing on and thus serving the shareholders
to achieve their goals but also when the right time is to harvest the asset value they invested in for many years.
During the Conference, we will shed light on how to capture the maximum value for a deal
in the best manner and at the right time. The conference shall have three streams:
• Learning how synergies may be exploited for example during M&A transactions.
• Discussing the need for strategic access to new technologies.
• Looking at new players such as new public and public-private funding schemes as well
as patient and non-profit to support R&D funding.
Join us on Sunday afternoon to be part of our exciting 2019 Winter Conference with high-caliber speakers covering interesting topics.
Explore our inspiring program which will be available on our conference website
www.swisshlg-conference.com It will be updated regularly over the next few weeks with newly confirmed speakers their abstracts and bios.
Please take advantage of our early bird benefits! Register now and secure a conference space as well as hotel booking. There are several options available for hotel bookings
within different price categories, but all are limited.
We are looking forward to welcoming you at the 2019 Swiss HLG Winter Conference in the fascinating scenery of the Gruyère region. Let's learn together how to best capture deal
values!